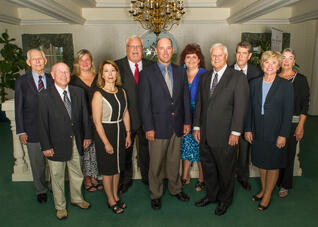 By a unanimous vote of its board of directors, Caldwell Trust Company has established an annual scholarship program at the State College of Florida that will award scholarships to three incoming freshman students each fall.

Members of the boards of directors of Caldwell Trust Company (CTC) and State College of Florida Foundation, Inc., (SCFF) pose for a photo to mark the creation of three scholarships that will be granted by Caldwell Trust Company each year to incoming freshman students.
Pictured in the front row, from left, are James R. Woods, CTC; Cassandra Holmes, executive director, SCFF; R. G. "Kelly" Caldwell Jr., CEO and president, CTC; and J. Mack Reid and Marge Maisto, CTC. Standing in the back row are H. Lee Thacker Jr., CTC; Mary Lou Bale, director of development, SCFF; Christopher N. Gray, CTC; Jodi Allen, SCFF; John S. Booth III, CTC; and Kathleen Toale, CTC.
Caldwell board members J. Mack Reid and Kathleen Toale worked closely with officials at the State College of Florida Foundation, Inc., to set up the Caldwell Trust Company Scholarship Fund. After developing a financial agreement and determining criteria for choosing deserving recipients, Mack and Kathleen presented the proposed program to Caldwell's directors at their April meeting. The SCF Foundation is currently selecting the first recipients. "We will meet them at the annual scholarship luncheon in October," Mack said.
R. G. "Kelly" Caldwell Jr., CEO and president, is pleased with the program. "This is a win-win," he says. "We're gratified that we can help a few students each year. Longer term, we're pleased to help develop capable, qualified talent for our industry."
Caldwell has already experienced success with SCF programs. In 2003 the company hired an intern, Sonya Dlug. She was a student at then- Manatee Community College (now SCF) and the University of South Florida. Upon graduation from USF in 2005, Sonya became a fulltime trust assistant and later a trust associate. She was promoted to assistant trust officer in 2009 and trust officer in 2010. This year she was named an assistant vice president. Kelly said, "We would love to find another Sonya. Our scholarship program is a good first step."
About Caldwell Trust Company
Caldwell Trust Company is an independent trust company with offices in Venice and Sarasota, Florida. The company offers a full range of fiduciary services to individuals, including services as trustee, custodian, investment adviser, financial manager and personal representative. Additionally, Caldwell manages 401(k) and 403(b) qualified retirement plans for employers.