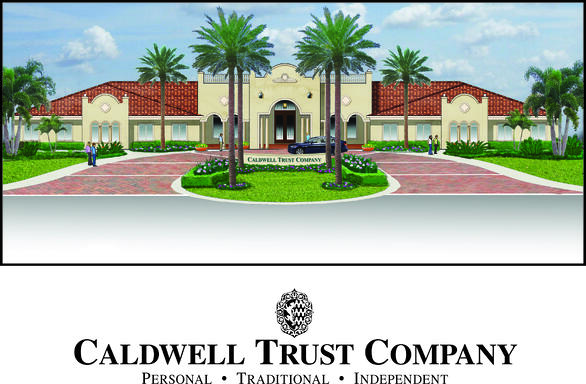 "Whenever you see a successful business, someone once made a courageous decision," wrote noted management consultant Peter Drucker. That person was Roland G. Caldwell who made his courageous decision more than 20 years ago. Today his actions and those of his carefully hand-picked team have resulted in a company whose growth requires more space. As a result, Caldwell's directors and officers made the decision to construct larger headquarters.
Housed at 201 Center Road since 1993, Caldwell will relocate our Venice operations to the new facility in November 2014. Our offices at 1561 Main Street, opened in 2009, will remain in operation.
Who We Are and What We Do
Caldwell Trust Company is a privately owned, independent business that serves clients around the country from its offices in southwest Florida. As a chartered private trustee, the company is a true fiduciary which means we handle family affairs privately and in confidence. We can serve our clients and their families as a custodian and investment advisor, a financial manager, a trustee, personal representative and corporate guardian. In simplest terms, we act as a quarterback for families as they deal with their financial planning and investments. We also serve as a retirement plan trustee for employers and employees.
Where We've Been
Caldwell planted its roots in the 1970s when Roland Caldwell formalized his consulting services by establishing Caldwell & Co., an advisory firm that provided investment guidance for the trust industry. By the late 1980s, he was known as the author of a respected investment newsletter. He was also a trust consultant for a major bank in Venice. As banks were sole or merged, he was dismayed to see investors bear the burden. He made his courageous decision then: to form an independent trust company that would provide personalized trust services in a traditional manner.
The company's success led to another courageous decision in late 1992: to form a new company with a primary focus on family trusts and a commitment to remain independent. Caldwell & Co. recruited respected associates and worked through most of 1993 on the charter application that would make Caldwell Trust Company one of the few independent trust companies in Florida. On November 1, 1993, we received our charter. By November 2, we had our first client. The business has continued to grow ever since, and will retain many of our early clients.
Where we are today
Three of Caldwell's five original employees - Kelly Caldwell, Edrise Sievers and Danny Williams - recently celebrated their 20th Anniversary along with the company. H. Lee Thacker, Jr., CFP, senior executive vice president, secretary and trust officer, is not far behind the original staff with over 17 years at Caldwell.
Financial figures tell the tale. Upon completing our first ten years of operation, we had $200 million in assets under management. In 2013, after the second ten years, this amount has more than tripled to over $700 million.
Where We're Going
We've grown through a controlled, carefully planned strategy. Our challenge as we continue growing is to remain true to our culture. With that in mind, we have developed our strategy for the next twenty years through a consensus approach to excellence. A major step towards achieving this strategy and broadening decision-making capabilities was a corporate retreat in 2011. Board members and staff reviewed existing procedures, brainstormed for more efficient methods of operation and developed a road map to guide the company's growth. Everyone in the company has input into our road map, an involvement in the direction of the company. Everyone here has a part in driving. We're looking forward to the next twenty years of growth!