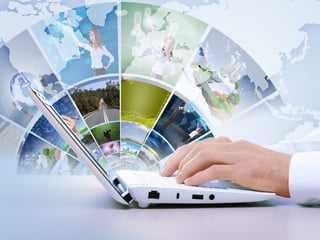 When developing an estate plan, there are so many elements to worry about that many people end of forgetting a whole category of assets: digital. Digital (especially social media) has become such a nuanced and integral part of our lives in such a short period of time that it becomes a blind spot. However, your digital legacy is just as important as the rest of your assets. In today's post, we'll give you a rundown of what you need to know before you start digital estate planning, how digital assets should be integrated into your estate plan, and why this process matters in the first place.
What You Need To Know about Your Digital Legacy and the Law
According to the terms of service for most digital service providers, an online account and its content cannot be accessed by anyone except the user themselves, even once that person has died. Families of the deceased have had to go through complicated processes or even go to court in order to access such accounts, as in the case of Peggy Bush, 72, who in 2016 was forced to get a court order to require Apple to release her late husband's Apple ID password, despite presenting her husband's death certificate and will. This becomes more complicated when you realize that an executor accessing the account could be considered a hacker by the service provider.
To resolve these difficult and emotionally devastating issues, the Revised Universal Fiduciary Access to Digital Assets Act (RUFADAA) or a variation thereof (originally FADAA, sometimes RFADAA or UFADAA) has either been enacted or introduced in most states, although a few holdouts remain. This law extends the power of fiduciaries (i.e., representatives of the deceased) to access, manage, and transfer digital account assets in the same way that they handle physical and monetary accounts when a person becomes incapacitated or dies. This ensures the privacy of the user's account and content per their estate plan.
How To Prepare Digital Estate Planning
To ensure everything is handled appropriately, create a list of all of your digital accounts, including their passwords, pin codes, and any applicable multi-step verification processes. This needs to be included with your letter of intent, and a backup copy should be stored with other important documents. Be sure that pertinent estate planning includes your wishes regarding the disposition of your digital assets. This may include the transfer of valuable content that parallels physical assets, such as digital music that you've purchased, or services you may not have recorded elsewhere, such as apps on your mobile device. It also pertains to the disposition of content you may not have considered, such as your social media accounts and blogs. Be sure to note any accounts that access or control financial or personal information. Your list, credentials, and instructions should be regularly updated alongside the rest of your estate plan.
Why This Is Important
Our digital behavior is another extension of ourselves, and as such, it should be handled with the same due diligence as the rest of our assets. This extends to two areas. First and foremost, it matters that your digital legacy is handled by someone you can trust, and that those assets are distributed to the people you care about most. Second, you want to ensure that your digital footprint is secure. The risk of hacking and identity theft is not alleviated by your death unless each and every one of your accounts is handled properly. Without your digital assets being listed accordingly, RUFADAA may not enable the people responsible for doing so to access your accounts.
Though we may not realize it, the digital world has permeated most aspects of our lives. We will leave behind a digital legacy when we pass away, and that means we need to commit to digital estate planning to ensure all of our assets are properly managed. Otherwise, it may be illegally accessed, or worse, those that ought to have access will suffer further distress when they're not able to.