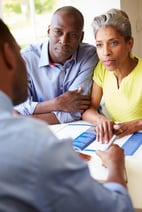 According to a 2014 Census Bureau report, thirteen percent of the population is 65 years of age or older with longer life expectancies than prior generations. Meaning you need to make your money last.
How Much do You Need?
The first step in creating your plan is to know, realistically, how much you will need. Many retirees utterly underestimate their post work-a-day-world overhead. With a few exceptions, your costs will remain roughly the same or possibly increase. Estimates indicate that the average retired couple spends $240,000 out-of-pocket for health care during their life-time and the cost of living goes up not down.
What Can You Do?
Luckily, there are a few easy steps you can take now to structure your retirement.
Hire an Expert
The smartest action to take is consulting a financial planner. They work with you to maximize all your investments.
Is Economizing Right for You?
Downsizing might help you reduce costs associated with homeownership.
Maximize Your Accounts
Do you have a handful of abandoned 401Ks? In workforce where job hopping is common you may have funds squatting in a former employer's plan. Consolidate those into your current employer's plan or a sole IRA. Additionally, contribute more to you current plans. Once you are over 50 you can add thousands of extra dollars annually. Inquire with an advisor or you plan administrator about the current 2015 guidelines.
Protect your Assets
Another good option is investing in long-term-care insurance coverage. Your savings could be decimated should you require a nursing home or around-the-clock care—which is not covered by Medicare. Remember it is estimated that the average retired couple spends $240,000 out-of-pocket for health care.
Plan Ahead
You can maximize your Social Security benefits simply by working longer and putting off collecting them. You are eligible at age 62 but doing so will reduce your lifetime amount. Go online to review your statement and estimate your benefits.
These are a few steps you can take to enjoy your hard earned money during your retirement.
About Caldwell Trust Company
Caldwell Trust Company is an independent trust company with offices in Venice and Sarasota, Florida. Established in 1993, the firm currently manages over $800 million in assets for clients throughout the United States. The company offers a full range of fiduciary services to individuals, including services as trustee, custodian, investment adviser, financial manager and personal representative. Additionally, Caldwell manages 401(k) and 403(b) qualified retirement plans for employers.