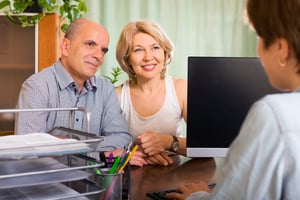 We often get questions about legal wills and estate plans. We hope to help clarify the difference between a legal will and an estate plan and will take a look at what each provides.
What is a Will?
A legal Will, aka Last Will and Testament, is a document that an individual has prepared with the assistance of an attorney to carry out their final wishes as it relates to their property, both real estate and personal (furniture, furnishings, jewelry) as well as other financial and digital assets they own in their name individually at the time of their death. Your Will should provide direction on your burial, payment of final debts and expenses, describe who is to receive your property either outright or retained in a trust and if you have minor children, name a guardian. A Will also needs to appoint an someone or a Corporation such as Caldwell Trust Company as Personal Representative. As noted previously, a Will covers only property which you own and is titled in your name individually; it does not supersede any property held jointly or any beneficiary designation you have for life insurance, IRA, 401(k) or other type of retirement accounts. Upon death, a Will needs to be filed with the Probate Court who will determine if the Will is valid in accordance with Florida Law, thus it is important that you work with an attorney who is familiar with this are of Florida Law.
What Is an Estate Plan?
An estate plan is really a term which represents several documents that outline what your wishes are if you become ill or incapacitated and are unable to make financial and/or medical decisions. Further, legal documents such as a Will or Trust provide for the disposition of property you own individually or in a trust which you may have created during your lifetime. If you own a business, there are also documents which should be included as to who is to receive your interest in the business as well as who is to step in to carry on the business. A Durable Power of Attorney for financial decisions and medical decisions as well as a Living Will are utilized during your lifetime. A Will is only valid upon death while a trust can be established and functioning during your lifetime.
Why Do They Matter?
Most individuals want to be in control of how they want to be taken care of through illness or incapacity or if medical decisions need to be made. They also want to be assured that their wishes are carried out as to who receives property they own upon their death. In the United States, all of these directives need to be documented through Powers of Attorney, Advances Directives, Wills, Trusts or other types of legal documents if you own a business for example. Otherwise, someone else will be making decisions for you and it may not be the decision you would have made. As it relates to any assets you own, without a Will or a Will and Trust, your wishes will not be carried out and your assets will be distributed in accordance with the law in the state where you reside.
If you have minor children, it is critical to appoint a Guardian to oversee their care and is the most important decision a parent of minor children can make. If this isn't spelled out in a Will, the court will step in a determine who is appointed as Guardian of your children. If for some reason, both sides of a family do not get along or agree, this matter could be held up in court for a lengthy time with the children being placed in Foster Care initially until a judge decides who will have temporary custody.
If you want to learn more about these options and how they can pertain to you specifically, please feel free to contact us using our secure web form.