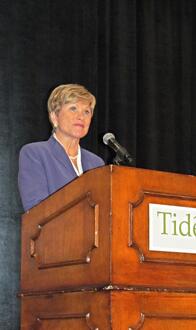 It is with the greatest respect for the exceptional care and service that Tidewell Hospice provides that Caldwell Trust is honored to have been the Presenting Sponsor for Tidewell's Annual Caring in Compassion program at The Ritz-Carlton recently. Marge Maisto, former CEO of Tidewell and current Caldwell Trust Company Director, welcomed over 500 guests and then introduces Bill Rancik, former Apprentice winner and fellow caregiver.
At Caldwell Trust, we believe our two organizations are kindred spirits in service to our communities. The similarities may not be evident at first glance. But a closer look reveals the like motivation that inspires each organization. It's about making a difference in the life experiences of others. Finding the comfort zone between basic human needs and optimizing one's experiences in physical or financial comfort. We know that Tidewell not only provides physical, emotional, and spiritual support to patients, but also provides families with sense of security and support through a life crisis.
Like Tidewell, the work of Caldwell Trust is focused on meeting the needs of others.
With a long and respected tradition of serving the community, Caldwell provides their clients with peace of mind through fiscal well being, family assurances of care and safety for their loved ones entrusted to our oversight and diligent optimizing of resources for future well being.
The two organizations work to make a difference in the lives of others.
Tidewell and Caldwell, helping people live better lives.
About Caldwell Trust Company
Caldwell Trust Company is an independent trust company with offices in Venice and Sarasota, Florida. Established in 1993, the firm currently manages over $800 million in assets for clients throughout the United States. The company offers a full range of fiduciary services to individuals, including services as trustee, custodian, investment adviser, financial manager and personal representative. Additionally, Caldwell manages 401(k) and 403(b) qualified retirement plans for employers.