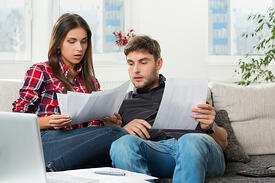 It's important to create a personal financial organizer when thinking about getting your affairs in order. While no one likes to think about what might happen down the road, it's best to settle these matters while you still can. It's even more important if you are single, or if you're the sole person in your family that takes care of financial matters.
In the event that you become unable to manage your finances, having a financial organizer will make it much easier on the loved one that will be responsible for taking over.
Why It's Important to Maintain a Personal Finance Organizer
Imagine this scenario: you have a storage unit that hasn't been opened in years; you left a few belongings in there when you downsized during retirement. Your loved ones remember you having a storage unit, but they have absolutely no idea where it's located, much less the code needed to get in.
They decide to look through the paperwork left behind in your file cabinet. They divide the folders amongst themselves, but an hour later, they have nothing.
If you have a financial organizer, this situation would play out quite differently! Your loved ones would know exactly where to find it, they would look through the pages, and voila, the address, the storage unit number, and the code to get in would be in there.
Which do you think is the better outcome? While the term "financial organizer" doesn't conjure up images of storage units, it is just one factor of many that you should consider when maintaining yours. That's why it's so important to create one, and keep it up-to-date with all of your financial information.
Personal Financial Organizers Make Life Easier
If, by chance, you end up being unable to take care of yourself or your finances in the future, your personal financial organizer will aid your family in taking over the management of your assets. They'll be able to know exactly which bills are due when, what bank accounts you have, important financial contacts, and what investments you have (among other things).
This can also help them make important decisions concerning your care, so you should also be sure to include health care information.
In the event of your passing, either your spouse or your family members will able to make arrangements with ease. Instead of trying to sort through files, they'll be able to look through your financial organizer and locate the information they need.
It can also serve to help you. If you have a habit of being disorganized, having your financial information in one centralized location can be a time-saver.
Most of all, it will give you and your loved ones peace of mind. Gathering important financial information isn't the number one thing on people's minds when they are grieving. Making their lives as worry-free as possible is a great gift to impart to them. Get started on creating your financial organizer today.
About Caldwell Trust Company
Caldwell Trust Company is an independent trust company with offices in Venice and Sarasota, Florida. Established in 1993, the firm currently manages over $850 million in assets for clients throughout the United States. The company offers a full range of fiduciary services to individuals, including services as trustee, custodian, investment adviser, financial manager and personal representative. Additionally, Caldwell manages 401(k) and 403(b) qualified retirement plans for employers.