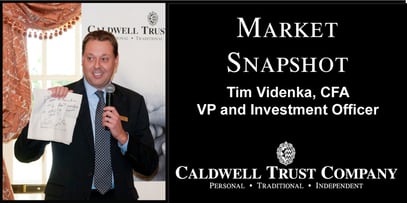 With respect to raising interest rates for the first time in almost a decade, we can't recall a time when the arguments for and against has been so equally matched. And we are reminded about the disconnect between economics and markets. You may recall the depth of the Great Recession when economic data was terrible and stocks began a significant rally anticipating better days ahead. Now we have had a few years of global economic growth albeit subpar growth and one of the major global growth engines, China is sputtering, teetering on a major slowdown. Commodity markets have reflected the slowing of China and sent a deflationary impulse to global stock markets. So, will they or won't they?
We don't know, however, if the interest rate futures market is telling us that a rate increase before New Year's Eve 2015 is in the cards. If they do this week, stocks might begin their next leg down and we are ok with that for a number of reasons. The first being that they just need to get on with it, the sooner The Fed begins the normalization process, the longer we all have to get used to higher rates and a path to where savers will stop being punished by low returns on saving instruments. Could a Fed raise send the stock market lower? Sure it can and we would view more downside participation in stocks as setting the stage for the next leg higher and a continuation of stocks outperforming bonds on real return basis in the years ahead.
About Caldwell Trust Company
Caldwell Trust Company is an independent trust company with offices in Venice and Sarasota, Florida. Established in 1993, the firm currently manages over $850 million in assets for clients throughout the United States. The company offers a full range of fiduciary services to individuals, including services as trustee, custodian, investment adviser, financial manager and personal representative. Additionally, Caldwell manages 401(k) and 403(b) qualified retirement plans for employers.