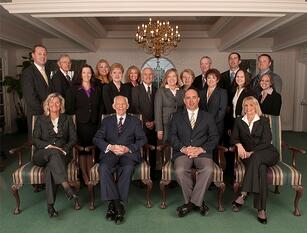 After successfully completing its first 20 years, Caldwell Trust Company is working towards the next 20. The company has grown consistently since its founding, initially under the guidance of Roland G. Caldwell, R. G. "Kelly" Caldwell Jr. and its founding board and, after Roland's retirement in 2007, under Kelly Caldwell, CEO and president.
The pace of growth has quickened in recent years: Caldwell now manages more than $760 million in assets. It has also broadened its scope with investment management and retirement plan services. The company's structure readily accommodates the changes.

"We're putting a plan in place that allows the company to be even more proactive in handling current and anticipated growth," Kelly said. The first steps have involved the hiring of a new chief financial officer, the creation of five new positions and the addition of three staff members.
Marc Hanson joined Caldwell Trust Company as chief financial officer in June, bringing 18 years of experience in financial and investment management. "We are very excited about the talents and energy that Marc adds to our company," Kelly said.
Caldwell's corporate culture emphasizes a strong sense of family among staff. "I can't overstate the importance of this philosophy," Kelly said. "It engenders employee loyalty. Equally important, it provides continuity for the company and our clients." Consequently, all five of the new positions have been filled from within, by trust officers who will continue in that capacity in addition to their expanded responsibilities.


The five, with their new titles, are:
H. Lee Thacker Jr., CFP, senior executive vice president as well as trust officer and corporate secretary; joined Caldwell in 1996.
Wendy L. Fishman, executive vice president and senior trust officer; joined Caldwell in 2007.
Jan Miller, executive vice president and trust officer; joined Caldwell in 2001.
Sonya Dlug, assistant vice president and trust officer; joined Caldwell in 2003.
Scott T. Antritt, assistant vice president and trust officer; joined Caldwell in 2012.


Caldwell has also hired Bethany Brandt, operations associate reporting to Ashley R. Harrison, assistant vice president, operations; and Donna Scaglione, trust officer assistant, and Roxanne Hirter, receptionist, both reporting to Wendy Fishman.