The Taylor Emmons Scholarship Fund (TESF) experienced tremendous success at its Annual Golf Classic & Texas Hold 'Em Poker Kentucky Derby Tournament.
This spectacular extravaganza not only brought together beloved family members, friends, and nationwide supporters to participate in two of Taylor's favorite pastimes – golf and poker, but also raised over $200,000 for the foundation during this one-day event. Since the inception of the Taylor Emmons Scholarship Fund in December 2010, over $1 million dollars has been raised to support the foundation's mission.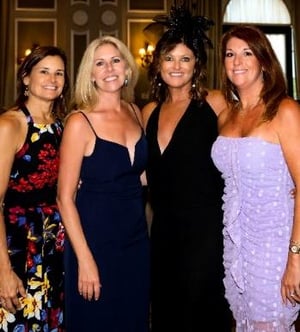 In photo (right) Left to Right: Co-chairs; Donna Halligan,
Sandy Albano, Katie Emmons and Jacque Hunter
The support of corporate partnerships, sponsors and contributors is vital to the success and sustainability of the Taylor Emmons Scholarship Fund. Every sponsorship and donation contributed toward the goal of helping worthy students experience an independent, college preparatory education at The Out-of-Door Academy's Upper School, who do not have the means to attend this private school. Currently, the TSF is proud to have four alumni and four students attend The Out-of-Door Academy on full, four-year scholarships. Although Taylor Emmons is no longer with us, his spirit lives on in the success of these scholarship students, who share his drive and passion for academics, the arts, and athletics.
To contact Sandy and learn more about The Taylor Emmons Scholarship Fund, email salbano@temmons.org or call 941.915.9249 or visit www.temmons.org.