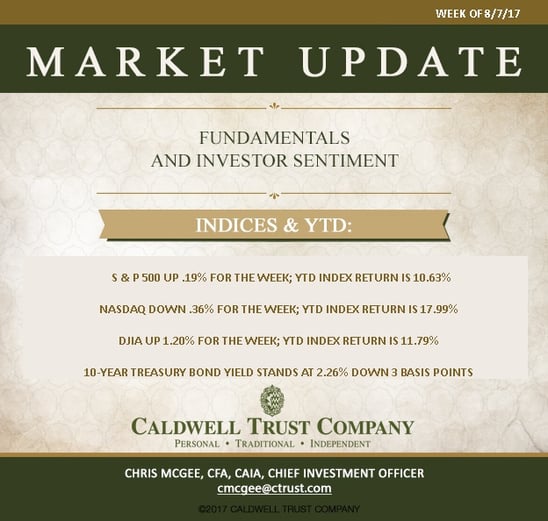 Your Market Update:
The Dow moves higher; S&P 500 and NASDAQ trade flat
Economic releases last week were positive
Global growth accelerating
Many old-line retailers report earnings next week
Earnings for the second quarter continue to roll in and in aggregate continue to beat estimates as does top line growth for S & P 500 companies.
The Dow Jones Industrial Average was up over 1% for the second week in a row. Both the NASDAQ and the S&P 500 were essentially flat for the week.
Friday's jobs report beat consensus expectations with payrolls increasing 209,000. The unemployment rate ticked down slightly and stands at 4.3%. The labor participation rate ticked up (a good thing) but continues to be low within a historical context. Wage growth picked up but not meaningfully. The economy continues to improve at a slow pace with inflation muted. The market consensus remains that the probability the Federal Reserve raise rates in December remains below 50%. While slow economic growth has been the norm here, globally growth prospects have been improving. The decline in the dollar should provide a tailwind for large domestic multinational companies.
July PPI and July CPI (Producer Price Index and Consumer Price Index) are released Thursday and Friday respectively.
Earnings releases next week are plentiful with the back end of the week loaded with old line retailers reporting:
Monday – CBS, AMC Entertainment, and Marriot
Tuesday – Dean Foods and Ralph Lauren
Wednesday – Mylan, TripAdvisor, and Wolverine World Wide
Thursday – Kohl's, Macy's, and Nordstrom
Friday – J C Penney
Indices for the week and YTD are as follows:
S & P 500 up .19% for the week; YTD index return is 10.63%
NASDAQ Composite down .36% for the week; YTD index return is 17.99%
Dow Jones Industrial Average up 1.20% for the week; YTD index return is 11.79%
Benchmark 10-year Treasury bond yield stands at 2.26% down 3 basis points for the week.
------------------------------------------------------------------------------------------------------------------------------------------------------
J. Chris McGee
, CFA, CAIA, Chief Investment Officer holds an MBA in finance and marketing from the J. L. Kellogg Graduate School of Management at Northwestern University and a BS in commerce from the University of Virginia. He is a member of the CFA Institute, CFA Tampa Bay and CAIA Association. He also served on the candidate curriculum committee of the CFA Institute and served as a grader for the CFA Examination for the CFA Institute in Charlottesville, Virginia. He has served on the board of directors of Selah Freedom, Sarasota, since 2014.
Chris McGee heads Caldwell's investment committee, which draws on a team of experienced in-house professionals and carefully chosen outside analysts to make decisions for client portfolios.
A Chartered Financial Analyst (CFA) and Chartered Alternative Investment Analyst (CAIA), McGee had previously been senior investment adviser and senior vice president at PNC Wealth Management in Sarasota for nearly a decade. Prior to that he was portfolio manager for five years with U.S. Trust (formerly Bank of America) in Sarasota. Before relocating here, he had served as vice president, capital management, for Wachovia Bank in Winston-Salem, North Carolina.
----------------------------------------------------------------------------------------------------------------------------------------------------
About Caldwell Trust Company
Caldwell Trust Company is an independent trust company with offices in Venice and Sarasota, Florida. Established in 1993, the firm currently has nearly $1 biillion dollars in assets under management for clients throughout the United States. The company offers a full range of fiduciary services to individuals including services as trustee, custodian, investment adviser, financial manager and personal representative. Additionally, Caldwell manages 401(k) and 403(b) qualified retirement plans for employers.