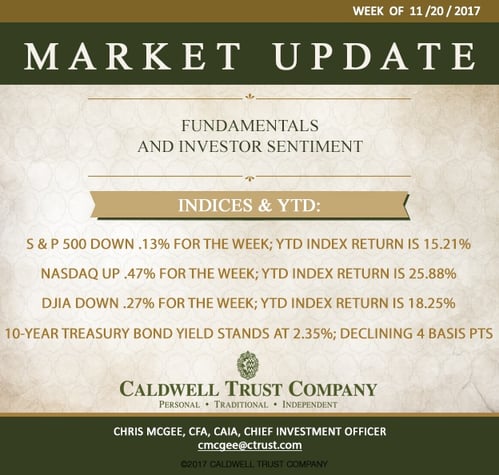 Equity markets mixed
10-year Treasury yeild down slightly
Wal-Mart psots strong earnings
Tax reform legislation winds through Congress
The broad domestic equity markets were mixed on the week with the Dow and S&P 500 posting losses and the NASDAQ gaining about .5%. The last couple of weeks the markets have been consolidating. Energy shares struggled last week, and along with Telecommunication shares are the only two S&P sectors posting negative returns year to date. On the positive side of things, Wal-Mart reported very strong earnings last week and the shares jumped 8.5%. Results were driven in part by Wal-Mart's strengthening position in e-commerce. Of all the traditional brick & mortar retailers Wal-Mart is best equipped to compete head on with Amazon.
The yield on the 10-year Treasury bond was essentially flat on the week and continues to trade with a yield between 2.3% and 2.4%. We are in the midst of a sell-off in High Yield bonds with large outflows from mutual funds and Exchange Traded Funds. The cause of the sell-off is multi-faceted. Valuations in the space have become expensive as investors' have sought yield in this low rate environment. The spread on High Yield paper over Treasuries had fallen to relatively low levels. Further the disruption and competition in the Telecommunications space has also had an impact given a lot of below investment grade bonds are issued by Telecommunications firms. We will continue to monitor the situation.
Earnings season is closing out with over 95% of S&P 500 companies reporting to date. As noted previously Q3 is yet another strong quarter, and earnings growth should remain strong into 2018; though earnings comparisons will get increasingly more difficult as the year progresses.
Finally, the House passed proposed tax reform and legislation now sits with the Senate which is working on its own version. Passage in the Senate is not a given, given its composition. The prospect of tax reform passing has been a slight positive on the markets over the last two weeks, but underlying market fundamentals continue to be the primary driver of market action.
Next week on the economic calendar October Leading Economic Indicators are out Monday; Existing Home Sales for October released Tuesday; Wednesday both Durable Goods Orders for October and Consumer Sentiment for November are released.
Next week earnings reports are dominated by Retailers and Technology outfits.
Monday – Agilent Technologies and Palo Alto Networks
Tuesday – Analog Devices, Campbell Soup, Cracker Barrel, DSW, Dollar Tree, Lowes Companies, Medtronic, and Salesforce.com
Wednesday – Deere
Thursday – Markets Closed for Thanksgiving
Indices for the week and YTD are as follows:
S & P 500 down .13% for the week; YTD index return is 15.21%
NASDAQ Composite up .47% for the week; YTD index return is 25.88%
Dow Jones Industrial Average down .27% for the week; YTD index return is 18.25%
Benchmark 10-year Treasury bond yield stands at 2.35% - down 4 basis points for the week
----------------------------------------------------------------------------------------------------------------------------------------------------
J. Chris McGee
, CFA, CAIA, Chief
Investment
Officer holds an MBA in finance and marketing from the J. L. Kellogg Graduate School of Management at Northwestern University and a BS in commerce from the University of Virginia. He is a member of the CFA Institute, CFA Tampa Bay and CAIA Association. He also served on the candidate curriculum committee of the CFA Institute and served as a grader for the CFA Examination for the CFA Institute in Charlottesville, Virginia. He has served on the board of directors of Selah Freedom, Sarasota, since 2014.
Chris McGee heads Caldwell's investment committee, which draws on a team of experienced in-house professionals and carefully chosen outside analysts to make decisions for client portfolios.
A Chartered Financial Analyst (CFA) and Chartered Alternative Investment Analyst(CAIA), McGee had previously been senior investment adviser and senior vice president at PNC Wealth Management in Sarasota for nearly a decade. Prior to that he was portfolio manager for five years with U.S. Trust (formerly Bank of America) in Sarasota. Before relocating here, he had served as vice president, capital management, for Wachovia Bank in Winston-Salem, North Carolina.
----------------------------------------------------------------------------------------------------------------------------------------------------
About Caldwell Trust Company
Caldwell Trust Company is an independent trust company with offices in Venice and Sarasota, Florida. Established in 1993, the firm currently has nearly $1 billion dollars in assets under management for clients throughout the United States. The company offers a full range of fiduciary services to individuals including services as trustee, custodian, investment adviser, financial manager and personal representative. Additionally, Caldwell manages 401(k) and 403(b) qualified retirement plans for employers.