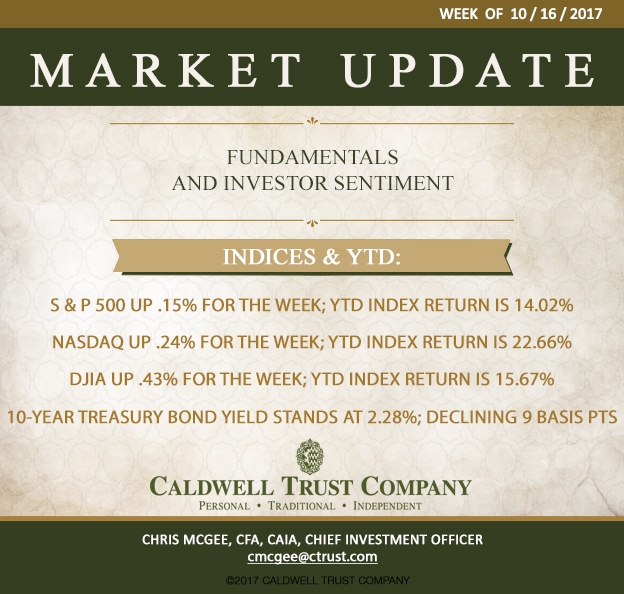 Money center bank kick off Q3 earnings season
Bank earnings generally in line with expectations
Domestic markets slightly higher on for the week
Pace of earnings reports pick up next week
The four largest money center banks kicked off Q3 earnings season reporting Thursday and Friday of last week. Citigroup and J.P. Morgan reported Thursday. While both beat consensus earnings estimates the quality of Citi's earnings continue to be poor relative to peers. They reported marginal revenue growth and poor operating efficiencies. J.P. Morgan put in solid earnings driven by strong lending and asset management business. Friday, Bank of America and Wells Fargo reported. While Bank of America exceeded consensus earnings estimates Wells Fargo missed. Wells Fargo was hurt by mortgage lending and legal costs. Bank of America reported margin expansion and strong lending results. Of the four issues J.P. Morgan and Bank of America, in our view, have the most upside potential. Two other institutions on our Buy List also reported this week, BlackRock and PNC Financial Services (which owns a 20%+ stake in BlackRock). Both companies reported strong earnings.
The Financial sector has done decent this year relative to the market and continues to trade depending on prevailing views on monetary policy, rates, and the prospects of deregulation in the banking industry. The metrics on the sector screen out favorably with other S&P 500 sectors.
The broader domestic equity markets were uniformly higher for the week but only slightly. After backing up for several weeks yields retreated slightly for the week as the yield on the benchmark 10-year Treasury bond closed the week below 2.30%. Looking towards next week, earnings should dominate news flow as earnings season gets in to full swing. The earnings releases will once again be dominated by Financial firms though several large Industrial and Energy concerns report late in the week. We expect the vast majority of companies to beat the consensus estimates as numerous companies revised guidance downward coming into the quarter.
Next week earnings include:
Monday – Charles Schwab, CSX, and Netflix
Tuesday – IBM, Morgan Stanley, Synovus, and United Health Group
Wednesday – Abbott, Alcoa, American Express, eBay, Northern Trust, Reynolds American, and U.S. Bancorp
Thursday – Bank of New York Mellon, BB&T, Key Corp., Nucor, Philip Morris, PPG Industries, Travelers, and Verizon
Friday – Baker Hughes, GE, Honeywell, P&G, Schlumberger, and Sun Trust
Indices for the week and YTD are as follows:
S & P 500 up .15% for the week; YTD index return is 14.02%
NASDAQ Composite up .24% for the week; YTD index return is 22.66%
Dow Jones Industrial Average up .43% for the week; YTD index return is 15.67%
Benchmark 10-year Treasury bond yield stands at 2.28% - declining 9 basis points for the week
----------------------------------------------------------------------------------------------------------------------------------------------------
J. Chris McGee
, CFA, CAIA, Chief
Investment
Officer holds an MBA in finance and marketing from the J. L. Kellogg Graduate School of Management at Northwestern University and a BS in commerce from the University of Virginia. He is a member of the CFA Institute, CFA Tampa Bay and CAIA Association. He also served on the candidate curriculum committee of the CFA Institute and served as a grader for the CFA Examination for the CFA Institute in Charlottesville, Virginia. He has served on the board of directors of Selah Freedom, Sarasota, since 2014.
Chris McGee heads Caldwell's investment committee, which draws on a team of experienced in-house professionals and carefully chosen outside analysts to make decisions for client portfolios.
A Chartered Financial Analyst (CFA) and Chartered Alternative Investment Analyst(CAIA), McGee had previously been senior investment adviser and senior vice president at PNC Wealth Management in Sarasota for nearly a decade. Prior to that he was portfolio manager for five years with U.S. Trust (formerly Bank of America) in Sarasota. Before relocating here, he had served as vice president, capital management, for Wachovia Bank in Winston-Salem, North Carolina.
----------------------------------------------------------------------------------------------------------------------------------------------------
About Caldwell Trust Company
Caldwell Trust Company is an independent trust company with offices in Venice and Sarasota, Florida. Established in 1993, the firm currently has nearly $1 billion dollars in assets under management for clients throughout the United States. The company offers a full range of fiduciary services to individuals including services as trustee, custodian, investment adviser, financial manager and personal representative. Additionally, Caldwell manages 401(k) and 403(b) qualified retirement plans for employers.