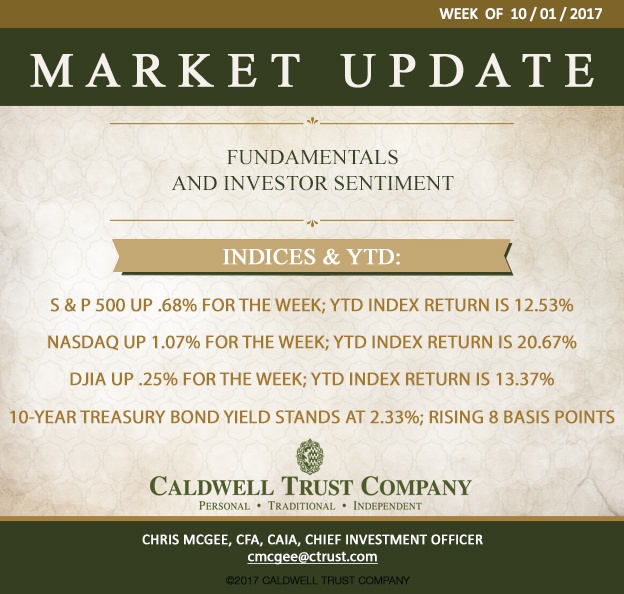 Equity markets advance solidly in Q3
All major global equity markets positive YTD in 2017
Broad domestic bond results solidly positive QTD and YTD
Tax reform proposed and outlined by adminsitration
Without exception major world equity markets have turned in positive returns through the third quarter of this year. The vast majority of returns are double digit. YTD in the U.S. the total return on the S&P 500 is 14.24%; NASDAQ 20.67%, and the Dow 13.37%. Growth stocks continue to overwhelmingly outperform value stocks. Domestically, bond returns are positive YTD with the broad market advancing 3.14% and High Yield bonds returning 7%. Enjoy it.
In the U.S., the Technology and Health Care sectors have turned in the best performances YTD (26.02% and 18.75% respectively). Energy and Telecom sectors have generated the worst returns, returning -8.62% and -8.07% respectively. That said, Energy stocks reversed in the third quarter and were the second best performing sector (behind Technology) gaining 6.03%. To a lesser extent Telecom issues reversed course and put in robust performance.
The major equity indices continued to rally in the third quarter all adding to previous gains and advancing in the mid-single digits. Domestic bond markets also put in positive returns (low single digits). During the quarter, the 10-year Treasury yield appears to have bottomed for the year at around 2.10% and has subsequently moved to around the 2.3% level. Monetary policy, geopolitical tensions, and natural disasters have been the major determinants of bond yields lately.
Domestic equity markets moved higher once again last week. Strong fundamentals and relatively accommodative monetary policy persist for the capital markets. In Washington, "repeal and replace" failed once again, and significant tax reform was proposed by the administration. The political wrangling in D.C. has had virtually no negative impact on the domestic markets. Historically, the markets have welcomed political gridlock.
On the economic calendar for next week:
ISM Manufacturing Index is reported Monday; ADP Employment Report is released Wednesday; Jobless Claims are reported Thursday; September Employment Report is released Friday.
Earnings releases next week include:
Tuesday – Simon Property Group, Lennar, and Paychex
Wednesday – Monsanto and Pepsi
Thursday – Constellation Brands and Costco
Indices for the week and YTD are as follows:
S & P 500 up .68% for the week; YTD index return is 12.53%
NASDAQ Composite up 1.07% for the week; YTD index return is 20.67%
Dow Jones Industrial Average up .25% for the week; YTD index return is 13.37%
Benchmark 10-year Treasury bond yield stands at 2.33% - rising 8 basis points for the week
----------------------------------------------------------------------------------------------------------------------------------------------------
J. Chris McGee
, CFA, CAIA, Chief
Investment
Officer holds an MBA in finance and marketing from the J. L. Kellogg Graduate School of Management at Northwestern University and a BS in commerce from the University of Virginia. He is a member of the CFA Institute, CFA Tampa Bay and CAIA Association. He also served on the candidate curriculum committee of the CFA Institute and served as a grader for the CFA Examination for the CFA Institute in Charlottesville, Virginia. He has served on the board of directors of Selah Freedom, Sarasota, since 2014.
Chris McGee heads Caldwell's investment committee, which draws on a team of experienced in-house professionals and carefully chosen outside analysts to make decisions for client portfolios.
A Chartered Financial Analyst (CFA) and Chartered Alternative Investment Analyst(CAIA), McGee had previously been senior investment adviser and senior vice president at PNC Wealth Management in Sarasota for nearly a decade. Prior to that he was portfolio manager for five years with U.S. Trust (formerly Bank of America) in Sarasota. Before relocating here, he had served as vice president, capital management, for Wachovia Bank in Winston-Salem, North Carolina.
----------------------------------------------------------------------------------------------------------------------------------------------------
About Caldwell Trust Company
Caldwell Trust Company is an independent trust company with offices in Venice and Sarasota, Florida. Established in 1993, the firm currently has nearly $1 billion dollars in assets under management for clients throughout the United States. The company offers a full range of fiduciary services to individuals including services as trustee, custodian, investment adviser, financial manager and personal representative. Additionally, Caldwell manages 401(k) and 403(b) qualified retirement plans for employers.