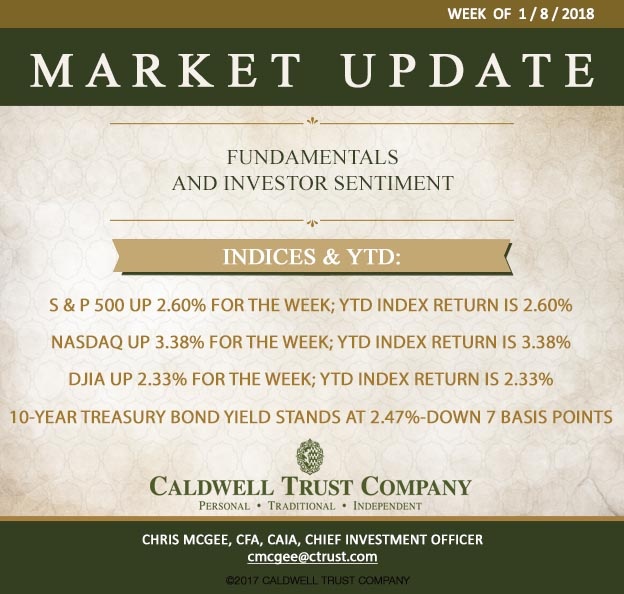 Good equity markets get even better
Will meaningful inflation reappear?
Q4 earnings season commences
To say the year has started off strong for domestic equity markets is an understatement. The S&P 500, NASDAQ, and Dow were all up over 2% for the first four trading days of 2018. The NASDAQ was up over 3% for the week. The Dow surpassed the 25,000-mark tacking on the last 5000 points (20%) in less than 12 months. While the records set by the Dow have received the most coverage, the S&P 500 and NASDAQ continue to hit fresh highs and set records as well.
The yield on the benchmark 10-year Treasury bond closed the week at 2.48% and remains in a constrained trading range. One of the major questions for this year is whether inflation will reappear in a meaningful way. The absence of inflation over the last few years has confounded the pundits and the Federal Reserve. Most arguments are for rising inflation given the anticipated pick up in economic growth domestically and an ever-improving employment picture. That said, wage growth – the primary inflation catalyst in recent history - remains virtually non-existent. Of course, time will tell; for now we are in the "show me" camp. To refresh everyone's memory, the Federal Reserve has 3 hikes in short term rates slated for this year (currently only two rate hikes are priced into the market).
Q4 earnings season gets underway next week with a slew of banks and asset managers reporting. Also, mid-week reports from two major homebuilders should provide insight on the strength of the economy. As noted previously, we anticipate earnings to remain strong heading into 2018. We will be closely monitoring forward guidance on revenue and earnings, as well as, company specific impacts of the recently passed tax reform. Earnings results will help provide a reality check for equity markets that have increasingly been driven by "animal spirits".
The economic calendar for next week includes the release of December Producer prices on Wednesday, and December Consumer prices on Friday.
Earnings next week include:
Wednesday – KB Home and Lennar
Friday – BlackRock, JP Morgan, Wells Fargo, and PNC Financial Services
Indices for the week and YTD are as follows:
S & P 500 up 2.60% for the week; YTD index return is 2.60%
NASDAQ Composite up 3.38% for the week; YTD index return is 3.38%
Dow Jones Industrial Average up 2.33% for the week; YTD index return is 2.33%
Benchmark 10-year Treasury bond yield stands at 2.47% - rising 7 basis points
----------------------------------------------------------------------------------------------------------------------------------------------------
J. Chris McGee
, CFA, CAIA, Chief Investment Officer holds an MBA in finance and marketing from the J. L. Kellogg Graduate School of Management at Northwestern University and a BS in commerce from the University of Virginia. He is a member of the CFA Institute, CFA Tampa Bay and CAIA Association. He also served on the candidate curriculum committee of the CFA Institute and served as a grader for the CFA Examination for the CFA Institute in Charlottesville, Virginia. He has served on the board of directors of Selah Freedom, Sarasota, since 2014.
Chris McGee heads Caldwell's investment committee, which draws on a team of experienced in-house professionals and carefully chosen outside analysts to make decisions for client portfolios.
A Chartered Financial Analyst (CFA) and Chartered Alternative Investment Analyst (CAIA), McGee had previously been senior investment adviser and senior vice president at PNC Wealth Management in Sarasota for nearly a decade. Prior to that he was portfolio manager for five years with U.S. Trust (formerly Bank of America) in Sarasota. Before relocating here, he had served as vice president, capital management, for Wachovia Bank in Winston-Salem, North Carolina.
----------------------------------------------------------------------------------------------------------------------------------------------------
About Caldwell Trust Company
Caldwell Trust Company is an independent trust company with offices in Venice and Sarasota, Florida. Established in 1993, the firm currently has nearly $1 billion dollars in assets under management for clients throughout the United States. The company offers a full range of fiduciary services to individuals including services as trustee, custodian, investment adviser, financial manager and personal representative. Additionally, Caldwell manages 401(k) and 403(b) qualified retirement plans for employers.