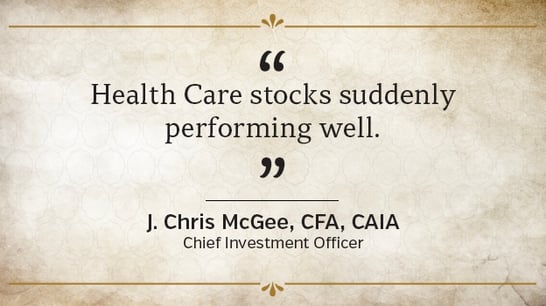 Equity markets mixed for the week
Health Care stocks suddenly performing well
Defensive sectors performing the best
Broad domestic equity market doing better than it feels
Domestic equity markets were mixed for the week with the Dow and the S&P 500 both up and the NASDAQ declining slightly. The Dow put in the best performance gaining over 1%. More importantly, concern over the situation in Turkey and potential for a contagion dissipated. Several high visibility companies (Cisco and Walmart) reported strong earnings and prospects. On the negative side Nvidia which has been a darling lowered forward guidance and shares sold off. We are at the very tail end of Q2 earnings season.
In case you have missed it, the Health Care sector has quietly advanced over the last several weeks. This is consistent with the rotation of money away from the Technology and Consumer Discretionary sectors and into more defensive sectors like Health Care. In fact, the best performing sectors over the last month (in order) have been Telecommunications, Health Care, Consumer Staples, Real Estate and Utilities. Health Care is now up nearly 10% for the year and ranks the 3rd best performing sector behind Technology (up over 15%) and Consumer Discretionary (up close to 14%). The recent emphasis on defensive sectors is consistent with the continued out-performance of value indices over growth indices during the last few months.
It doesn't feel like the total return for the S&P 500 is over 7% for the year given the persistent worry and mind-numbing news flow. We may be setting up for another good year if the gains can hold through Labor Day and into September. The last quarter of the year has been fruitful for investors for the last number of years. That said, let's not forget about the midterm elections in November.
On the economic calendar this week the National Association of Realtors releases July existing- home sales data on Wednesday. The Kansas City Fed releases its manufacturing Survey for August on Thursday, and the U.S. Census Bureau releases new-home sales data for July as well. Durable Goods orders for July are reported by the U.S. Census Bureau on Friday.
Q2 earnings season is nearing completion, among companies reporting are:
Monday – Estee Lauder
Tuesday – Kohl's, J.M. Smucker, TJX, and Toll Brothers
Wednesday – Analog Devices, L Brands, and Lowe's
Thursday – Alibaba, Autodesk, Gap, Hormel Foody, Ross Stores, and VMware
Friday – Foot Locker
Indices for the week and YTD are as follows:
S & P 500 up .59% for the week; YTD index return is 6.60%
NASDAQ Composite down .29% for the week; YTD index return is 13.22%
Dow Jones Industrial Average up 1.41% for the week; YTD index return is 3.84%
Benchmark 10-year Treasury bond yield stands at 2.86% - down 1 basis point on the week