As you may have seen, the U.S. economy generated 287,000 jobs in June, the highest reading for the year and well above the consensus forecast of 175,000. A welcome surprise, however, in May, the Department of Labor reported a gain of only 38,000 even after heavy downward revisions in prior months. Yet the unofficial numbers (ADP, ISM and Challenger surveys) pointed to gains of about 157,000 in May…What gives? Why the big miss in May and the huge gain in June? We can only speculate. And we note that May's report was the worst May since the end of the Great Recession and June's report was close to being tied for the best, see chart below courtesy of Don Luskin at TrendMacro.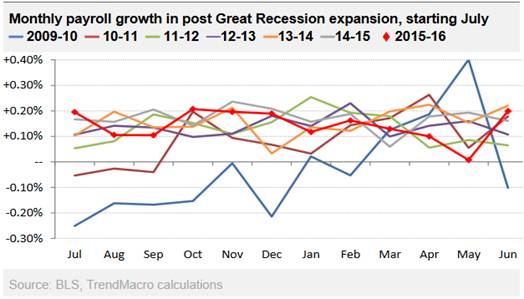 Despite the sharp rise in DOL reported payrolls, the unemployment rate increased, to 4.9% from 4.7% as more workers entered the labor force. Keep in mind that despite establishment reported payroll figures, the labor force participation rate increased to 62.7% from 62.6% in May (but remains well below the historical average of 65%).
Drilling deeper, the U6 unemployment rate was a steady 9.6%. The Federal Reserve, of course, is keeping a close eye on the U6 unemployment rate, which provides a window into the slack that remains in the work force. We're not sure that this report is enough to encourage the Federal Reserve to resume its interest-rate hike campaign in 2016.