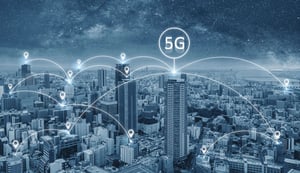 5G or not 5G? That is our question. Media and tech reports are abuzz about this new technology but definitions are buried in technical information about how it works. For somebody who just wants to use a cell phone or get speedy internet service, explanations are beyond our ability to understand—or our need to know. Even Sprint's "5G for Dummies" takes 53 pages to explain. Let's try to simplify.
Related Blog: 5-Step Process for Creating a Digital Estate Plan
What is 5G?
It's the next step up after 4G, the fifth generation of wireless cellular networks. In simplest terms, 5G provides a speedier way for devices to talk to one another.
Why is 5G better?
The basic technology behind 5G will provide much greatly increased capacity and faster internet connections—maybe 10 times faster than 4G (or 20 times according to Verizon).
What can it do?
Providers promise that 5G technology will be a "transformative" factor in our lives. Its higher speed and increased capacity will enable critical communication among such varied applications as robots and groups of driverless cars, for example. It can enhance virtual reality and improve untold numbers of applications such as health and agricultural sensors, connected street lights, repair services, energy allocations, smart cities, transportation—and the list goes on.
But wait a minute. Technical and sales literature provide such statements as appear in Verizon's website article "What is 5G?". It is rife with such phrases as "… benefits of 5G will make businesses more efficient…." And "5G has the potential to…." And "5G … will provide data transfer rates many times faster than a blink of an eye…." (emphases added) These comments, representative of remarks by other providers, are all forward-looking. In other words, we aren't there yet.
Where can I get 5G? You probably can't, at least not yet. Maybe not until 2021 or 2022. Several companies have announced sales of 5G Ultra Wideband phones (including Motorola, Samsung, Inseego, and LT). Apple won't catch up until next year. Further, 5G service is only available in a few select cities. PC Magazine says Verizon has promised service—some of it limited--in 30 cities by the end of the year; so far it's launched two of them. Sprint, T-Mobile, and AT&T are also rushing to join the fray. It's expected that 5G service will cost a bit more than for 4G.
What are the economic and political impacts? As demand for faster wireless grows, President Donald Trump has said the industry could invest up to $275 billion in 5G networks and create about three million new jobs. The new technology is also a factor in a proposed merger between Sprint and T-Mobile. In addition, 5G technology is a political flashpoint in our country's trade war with China. A ban on working with Chinese equipment manufacturer Huawei—partly from fear that its equipment could be spyware--is hampering U.S. development of the 5G network even as we race to beat China to market leadership.
What's the takeaway? 5G holds the promise of bringing spectacular changes to our daily lives, but not quite yet. Although preliminary research was begun in two separate projects in 2008, the technology is only now beginning to see a rollout. While some investors may want to evaluate opportunities, for most of us the only option is to watch and wait.