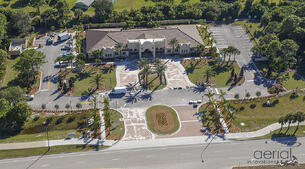 There's no place like home for the holidays." Those lyrics, written in 1954, were true centuries before the song existed and will continue to be so for centuries to come. This year the words hold a truly special meaning for Caldwell Trust Company as we prepare to move into our new home at 1400 Center Road, Venice. Our professional family will be in residence at the new Italianate-style, 11,500-square-foot building by year's end.
We're thrilled about welcoming the holidays in our new home. At the same time, we know that holidays are about more than stone, mortar and marble. They're not about where we are but who we're with in person or in spirit: family, friends, co-workers and others who are important to us. Over the next two months we will all find many occasions to share our time and love with these folks. We will come together to express our gratitude at Thanksgiving, observe religious holidays in our chosen way—whether Christmas, Chanukkah, Kwanza, Ramadan, or another occasion—and joyously welcome the new year.

We at Caldwell Trust Company send you our warmest wishes as you enjoy the coming holiday season—and we invite you to visit us in our new home at your next opportunity. We'll put out the welcome mat and leave a light in the window. Happy holidays from all of us!

Kelly Caldwell


About Caldwell Trust Company
Caldwell Trust Company is an independent trust company with offices in Venice and Sarasota, Florida. Established in 1993, the firm currently manages over $800 million in assets for clients throughout the United States. The company offers a full range of fiduciary services to individuals, including services as trustee, custodian, investment adviser, financial manager and personal representative. Additionally, Caldwell manages 401(k) and 403(b) qualified retirement plans for employers.