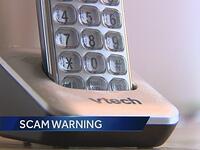 Did you know that the IRS does not make phone calls? Over 90,000 Americans have fallen for this scam. Some are even $5 million poorer because they fell for it according to a complaints report by the Treasury Inspector General for Tax Administration's.
Americans should be on the alert and help a neighbor in spreading the word. This isn't the first or the last time we will hear of such alerts on this topic.
"Taxpayers should remember their first contact with the IRS will not be a call from out of the blue, but through official correspondence sent through the mail," IRS Commissioner John Koskinen said. "A big red flag for these scams are angry, threatening calls from people who say they are from the IRS and urging immediate payment. This is not how we operate."
When scammers call they may:
Use common names and surnames to identify themselves, as well as fake IRS badge numbers
They may be able to recite your last four digits of your Social Security number.
They may even have the toll-free number of the IRS appear in your caller ID
They may send bogus emails to back up the phone calls
They may play fake background noise of other IRS calls being made
Follow-up calling by others pretending to be law enforcement
If you are a target, report the incident to the Treasury Inspector General for Tax Administration's office at 800.366.4484 as well as the Federal Trade Commission's FTC Complaint Assistant at www.ftc.gov
You can also find out more information here, www.irs.gov.