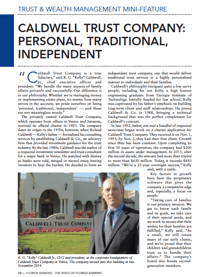 Twenty plus years in the making, Caldwell Trust Company completes build-out of and moves into new headquarters in Venice, Florida. "We've broadened and deepend our staff, both in capabilities and in age and we've added vice presidents of investments and marketing. Kelly attributes factors in growth for the organization to the proprietary software that gives the company a competitive edge. Read the article in its entirety here!
About Caldwell Trust Company
Caldwell Trust Company is an independent trust company with offices in Venice and Sarasota, Florida. Established in 1993, the firm currently manages over $800 million in assets for clients throughout the United States. The company offers a full range of fiduciary services to individuals, including services as trustee, custodian, investment adviser, financial manager and personal representative. Additionally, Caldwell manages 401(k) and 403(b) qualified retirement plans for employers.