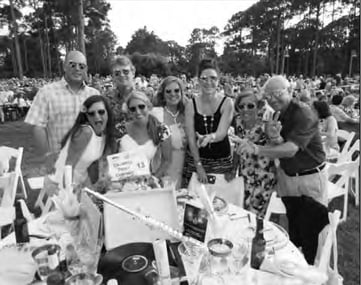 Who says fundraising has to be stodgy? Caldwell's staff felt the love at the "All You Need is Love" Evening Under the Stars, the annual fundraiser sponsored by the State College of Florida (SCF) Foundation on Saturday, April 11, at the college's Venice campus. Caldwell women flashed heart-shaped sunglasses while men donned round frames à la John Lennon, co-composer (with Paul McCartney) of the 1967 hit song by the Beatles. The company got fully into the theme and captured second prize for its table décor/theme.
The event opened under the sun and ended under the stars. It started with entertainment by award-winning SCF music students, continued through dinner and a concert by the Venice Symphony Pops Orchestra and ended with a dazzling display of fireworks. Proceeds from the event directly benefited SCF students deserving of scholarships as well as other outstanding SCF programs.
Caldwell Trust Company continues its role as an ongoing sponsor of "Evening Under the Stars." In addition, Kelly Caldwell is a director of the Foundation and served on its finance committee for many years.