We're completely honored to have been awarded "Small Business of the Year," as well as "Professional Services Business of the Year."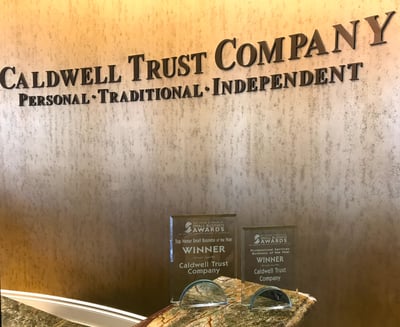 Members of Caldwell Trust Company attended the Greater Sarasota Chamber of Commerce 2017 Frank G. Berlin, Sr. Small Business Awards and took home two top honors, "Small Business of the Year" award and "Professional Services Business of the Year" award.
The prestigious awards were announced before an audience of over 400 attending the Chamber's annual awards luncheon at the Hyatt Regency Sarasota. The Frank G. Berlin Award recognizes member businesses and individuals with locally owned and operated business, while the Top Honor Small Business of the Year Award chooses its winner across all six categories.
R. G. "Kelly" Caldwell, Jr., CEO, president and co-founder of Caldwell Trust Company, accepted the awards on behalf of the 24-year-old company, which provides a full range of fiduciary services to individuals as well as management of retirement plans for employers.
"We are truly honored and humbled by this award," Caldwell, Jr., said. "When we started our company in 1993, we pledged to offer traditional financial services in a highly personal way, and we vowed always to remain independent. We felt that this was the right path to serve our clients and grow the business."
We often refer back to our "What We Believe" pledge created by Roland Caldwell, Founder. In our business we pledge our honor, reputation and names in all that we do.