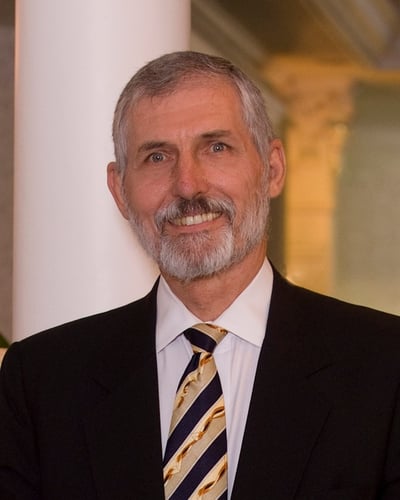 Vice president and trust officer Alan H. Blair joined Caldwell Trust Company in October 2008, just as Caldwell was marking its 15th anniversary. It was a landmark year for Alan as well—the continuation of nine previous years as a trust officer, following on a highly successful 34-year career in higher education. Before joining Caldwell, he had been with Sun Trust Bank in Sarasota since 1999, where he was a senior regional trust officer and first vice president. In 2004 he also became major gifts officer at Wagner College, Staten Island, New York.
Throughout his career, Alan has combined his backgrounds in education and finance, providing institutional advancement services to colleges and trust admini
stration services to banks and individuals. His extensive background has made it easy for him to straddle both worlds. He holds a B.A. from Hobart College and a Ph.D. from Michigan State University with a major in higher education administration and a minor in organizational development.
In 2003 he earned the designation of Certified Trust and Financial Advisor from the American Bankers Association. He is also a graduate of the Cannon Financial Institute Trust School and holds certifications from the Executive Leadership Institute of Indiana University and the Management Institute for Senior Administrators of Stanford University.
Alan sees the blending of his two backgrounds as a natural fit. "As I reflect on the occasion of my 10- year anniversary at Caldwell Trust, I am reminded that the way in which I interact with clients is not unlike that of a teacher, a career I began 50 years ago," he said. "As trust officers we listen, suggest, guide, encourage and support our clients as each make individual plans for their tomorrows."
Blair had moved to Bradenton, Florida, from Ohio in 1989 to serve as executive director and CEO of then-Manatee Community College Foundation, now State College of Florida Foundation. His duties there included high-level management and leadership skills—and an unexpected stint as a theatrical producer. In 1992 he drew on MCC's theater department, grants from the National Endowment for the Arts, Sarasota's Tourist Development Commission, and community resources to produce the historical play The Fabulous Mrs. Palmer. The musical dramatized the life of Sarasota founder Bertha Honore Palmer. Under Alan's guidance The Fabulous Mrs. Palmer played to 5,000 area residents on MCC's Bradenton and Venice campuses and even generated a profit—a rare occurrence in the world of theater.
Alan makes a full commitment to every venture, certainly including his position with Caldwell. He said, "I have delayed retirement well beyond the accustomed age to remain a member of the Caldwell Trust family of employees and clients. The work environment, coupled with caring management, creates a culture far exceeding any I have either encountered or observed in more than 50 years as a professional."
When not at work, Alan and his wife Cynthia enjoy cooking, travel, and family.
To contact Alan, email alan@ctrust.com or call 941.926.9336.