Roland George Caldwell, 89, of Venice, Florida passed away on April 24, 2023.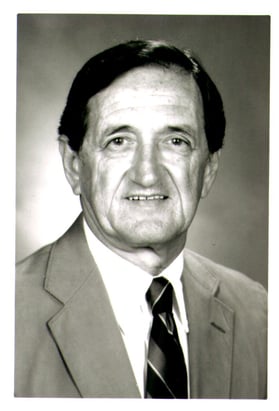 Roland was born on November 10, 1933, in Chicago, IL during the 1933 World's Fair to Mildred and Clair Caldwell. When Roland was 11, the family moved to the farm on Snyder Road in Bainbridge, Ohio. Roland and his siblings Don, Shirley, and Warren had typical farm chores, collecting eggs, weeding the garden, and helping neighbors pick potatoes and bale hay.

In high school, Roland was all about sports. And since there were only 15 in his high school class, he enjoyed playing on every team… basketball, football, baseball, and track with his best friends Bruce Chittock and Rich and Ralph Kluchar, at every practice and doing endless calisthenics, overseen by their beloved Coach Cusick. When Rich and Ralph's little sister Annette suddenly had grown to be a lovely young woman, Roland was head over heels.

Roland graduated from Bainbridge High School (now Kenston HS) with the Class of '51 and was promptly drafted into the military. He joined the Navy for 2 years of active duty (1952-53) and the Naval Reserves for 8 years, and then was able to use the GI Bill to go to college at Ohio State University in Columbus, Ohio.

But he found that he was too far away from his sweetheart, Annette, driving back and forth every weekend to see each other. They were engaged to be married in March 1955 during a heavy snowstorm when they ran into a large snowdrift and had to walk a quarter mile to the nearest house to use the phone to call Annette's father, John Kluchar to come pull them out of the ditch with the tractor. Roland and Annette were married in September 1955 and honeymooned in the Pocono Mountains. Roland ultimately graduated in 1958 from Kent State University, where he studied Economics and Accounting. Daughter Debbie was born while they were living in Hiram, Ohio and Annette worked at Hiram College.

After convincing his father-in-law to allow them to buy a plot at the far end of his farmland acreage that was somewhat swampy, Cuyahoga Savings & Loan loaned the young couple $14,000 and Roland (along with professional help from his brother-in-law Ed Durschlag, as well as other family members) spent the summer building their first home at the end of the corridor of Kluchar family homesteads along that stretch of Snyder Road.

Roland then began his professional career in the trust business as an investment analyst for the Cleveland Trust Company. Six years later, he moved his family to Muncie, Indiana where Molly and Kelly were born, and he worked as a senior trust officer for the American National Bank. When the opportunity presented itself, Roland accepted the international challenge to move his young family to Nassau, Bahamas, to lead the Trust Company of the Bahamas with his monetary policy and investment expertise.

Moving back to the US, the family lived in Lauderdale-by-the-Sea and then Sarasota, ultimately settling in Venice, Florida, where Roland operated his own investment advisory firm Caldwell & Co. Continuing to be entrepreneurial, Roland founded the Bay-Cross construction company with Eric DeVaughn and built their stilt home on the intercoastal in South Venice.

Always an independent thinker and entrepreneur, Roland, at age 60, founded Caldwell Trust Company, an independent trust-chartered bank in the State of Florida, currently celebrating its 30th year and serving more than 1,500 clients with $1.5 billion in assets under care. He took great pride during his leadership in instilling a company culture devoted to fiduciary responsibility, personal client relationships, and client goals. Upon Roland's retirement, he was succeeded by his son Kelly Caldwell as Chairman, CEO, and President.

In retirement to their cabin in the Smoky Mountains, Roland found time for his passions of writing and continued learning. Roland became a student of the great American philosopher Mortimer Adler, being invited into Adler's elite inner circle of attendees to the Aspen Institute's conferences and round-table discussions on philosophical ideas. When Roland became interested in a particular topic, he dove into the research, and when his research was particularly extensive, he would publish a book on the topic, just to share with family and friends. His most popular were his two volumes on "The Caldwell Family History" and his book "On the Making and Drinking of Fine Scotch Whisky" both written after a long trip to Scotland for proper research.

Roland's passion for writing (and sharing his thoughts) flourished as he began publishing his "Pigeon Forge Irregular" to a few select recipients (a few hundred) who were interested in reading his thoughts (and research) on an extensive and diverse list of topics, ranging from politics, economics and monetary policy (his favorites) to Smoky Mountain stories, the US constitution and founding father history, serious discussion on topics of religion or ethics, to recipes and wordplay and funny jokes, as well as serious remembrances of loved ones who had passed on. In his most recent series, he renamed "Musings of an Old Man" his favorite topics were discussions on blockchain technology, bitcoin, and Artificial Intelligence. Roland's tenet included in all his publications: FAC ET SPERA … Do and Hope.

Roland was predeceased by Annette, his beloved wife of 58 years, his brothers Don and Warren Caldwell, and his sister Shirley Borntreger, and is survived by his children, Debbie Caldwell Pecheux (Chris), Molly Caldwell Kraut (Jim) and RG "Kelly" Caldwell, Jr (Melissa). Roland was also the proud grandfather of his seven grandchildren Andrew, Jay, Jamie, Will, Brooks, Zachary, and Chase.
Roland will be buried next to his wife at Restland Cemetery in Bainbridge, Ohio on Saturday, May 13th, and the family is planning a Celebration of Life in Venice, Florida later this year.

For those wishing to make a memorial contribution in honor or Roland, the family suggests Tidewell Hospice of Sarasota, Florida or the Smoky Mountain Historical Society of Sevierville, Tennessee.